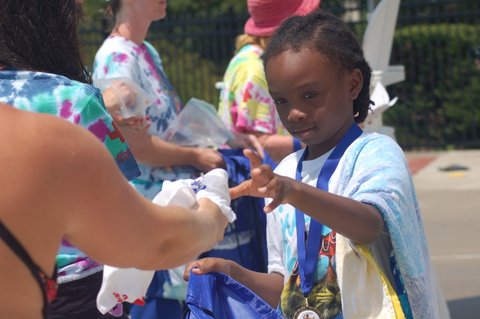 RAPS is proud to be recognized as a 501(c)3 tax free Non – Profit and 100% donation funded! Without our very important sponsors, shareholders, volunteers and donations the program would cease to exist. There are many opportunities for individuals or corporations to help the program.
You can also help through sponsoring a child for just $55.00. This fee per child covers a full week of instruction, pool time, giveaway items, and American Red Cross support fees. Other donation options are tee shirts, swim caps, towels, or giveaway items for the children — with varying donation levels. Contact RAPS for details.
It is truly amazing what these children can accomplish with just a single week of lessons! Nobody can put a price on the life of a child that we may prevent from drowning.
To donate, contact Leslie Paul at
Really Awesome People Swimming
By using our Contact Page
Or by using the button below to donate via Paypal