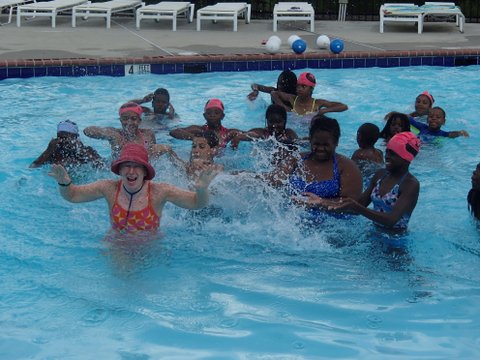 Leslie Paul founded the RAPS Program in 2007 after learning about the high drowning rates among the minority population and knew that she could make a difference in the Hampton Roads area. The program is in partnership with Timberlake Community Association, home of the RAPS Program, and The Noblemen. In 2009, the name and logo of the program were trademarked . Also, RAPS became a non-profit entity in Virginia and has received 501(c)3 status from the IRS, meaning that all donations are tax-deductible!
Children who attend the RAPS(tm)lessons usually have little to no experience in the water. Our staff and volunteers are dedicated to making sure that their experience is a positive one. We are able to keep the instructor/student ratio down to 1:6 so the children may learn as much as possible within the week time frame. Water safety is also a big part of our lessons.
The drowning rate among minority children ages 5 – 19 is 5 times higher than that for whites. Minority children aged 10 – 14 are more than 5 times more likely to drown than their white peers.
Lack of swimming skills closes the door to many job opportunities such as teaching, advancing in the Army or Navy, being a marine biologist, just to name a few.
Swimming is a lifetime sport. People can swim long past the time that they can play other sports.
"The water is your friend….you don't have to fight with water, just share
the same spirit as the water and it will help you move."
– Alexandr Popov